covid-19 jOURNAL:
anzac dAY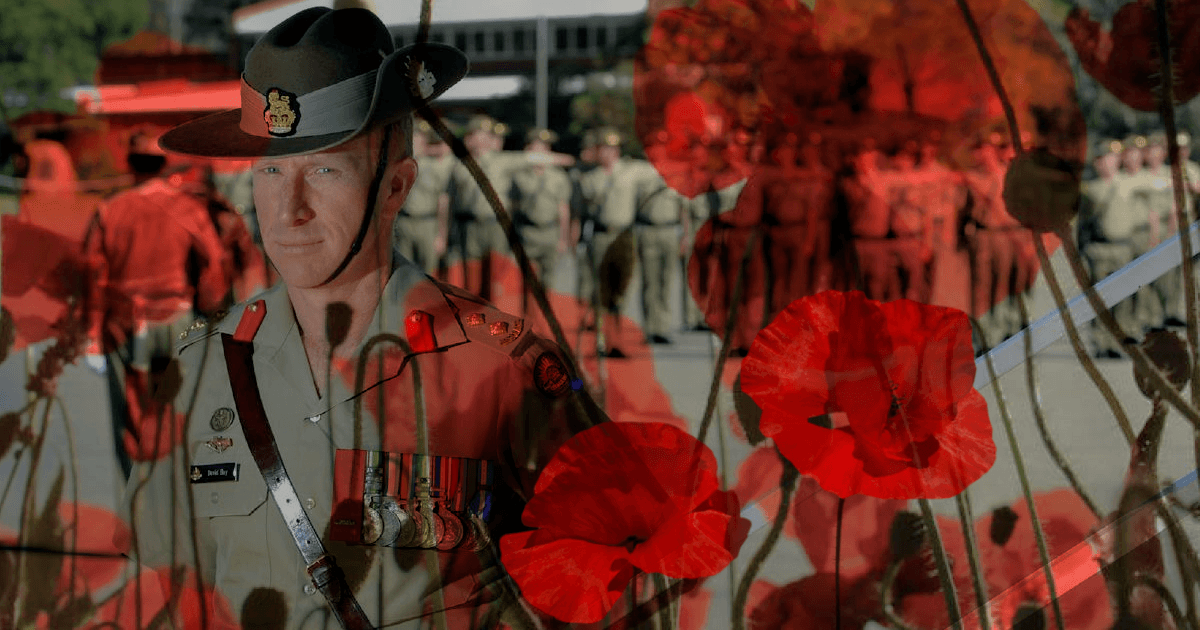 ANZAC day is usually a day of unity – where we all come together in our city squares and memorial parks, to remember those Australian and New Zealand servicemen and servicewomen who have served in all wars, conflicts and peacekeeping operations. However ANZAC day 2020 will be quite different, falling during a time when crowds are banned and we are forced to physically distance. On this ANZAC day, we will be joining the rest of Australia, tuning into the commemorative broadcast in the Driveway Dawn Service at 6am on Saturday with a candle to stand and remember. #LightUpTheDawn.

David Hay, a senior consultant at IPP and a former serviceman of the Australian Defence Force, has shared with us a touching reflection on what spending ANZAC day in isolation during a global pandemic will mean for him.
"As I look to ANZAC Day 2020 this Saturday I am not sure what to expect, or where my feelings and emotions might take me – and my family, who have always been an incredible source of inspiration to me. Over my 30 years of service, I am extremely lucky to have commemorated ANZAC Day in many ways: from organising and leading community gatherings and Dawn Services on the sacred grounds of Kranji War Cemetery in Singapore to the beaches of Brunei, at Kapooka – the 'Home of the Australian Soldier'. I have been fortunate to lead men and women of the Australian Defence Force in marches through the streets of Brisbane, Darwin and Wagga Wagga, and participated in Dawn Services on operations in the Middle East and Cambodia. My own personal travels have taken me to the beaches of Gallipoli and Normandy; to the Western Front and Hell Fire Pass on the Thai-Burma railway. These experiences catapult me back to a time where I myself try to make sense of the terrible loss of life and sacrifice. I find myself captivated by the incredible feats of human spirit, endurance and mateship that come from adversity and the shared experiences that still live on today.
All experiences hold special memories, influenced by both my own place and time in life and often surrounded by complete strangers, who gather at many places on ANZAC Day each year – to pause for a common cause. On many occasions I am surrounded by those who wear our military uniform, who are asked at times and when the country needs us, to do the extraordinary.  
Last year was my first ANZAC Day out of uniform. I was in an unfamiliar place, surrounded by strangers. I looked to see if I recognised any faces, as I watched on the march through the streets of Geelong. This year is different again – our recent isolation and withdrawal from our 'normal' life has forced us in doors. This has challenged us – our own adversity – and demanded of us new ways to connect as a community. Like those ANZAC's overcoming adversity, we too can take our shared experiences and form the connections to make us stronger and resilient.
Having my family with me again this year has crystallised and elevated my own understanding of what service and sacrifice means. The impact of service on our loved ones, watching those loving faces say goodbye, who remain at home enduring long periods of absence, without contact, not knowing.
Throughout all my experiences flows an undeniable sense of pride; pride in my own service, pride in my family for their service and pride in my community for supporting their Australian Defence Force. I have been very lucky to serve at a time when our Defence Force is highly regarded and respected. For those who served before me, I think of them and their service. For all the men and women who have not returned, I spare a moment for them and thank them for their ultimate sacrifice. For those currently in service, I continue to thank them for their contribution in making us the place we love and enjoy – our home Australia.
So on this ANZAC Day, I will stop and pause for a moment, joining my neighbouring community on the curb side, with my family next to me and a candle flickering in the dawn's early light.  We will pay our respects to the fallen and their families. We will think of all of the young men and women currently serving their country to support communities both here and overseas. We wish them a safe and speedy return to their loved ones.
Lest we Forget"
SECURITY MASTER LICENCE NUMBERS 
VIC Lic. No 718-385-20S, NSW Lic. No 407389153, ACT Lic. No 17502267, QLD Lic. No 3257776 & SA Lic. No ISL 241459
VICTORIAN LABOUR HIRE LICENCE 
Lic. No VICLHL01347